Hold Your Own Euchre Tournament - 4
The Progressive format (8 hands per Round)
---
Last update on: Feb 04, 2019
The Progressive format, aka The Round Robin format, is commonly used at fundraisers and social events. It is also seen in completive tournaments. It is popular because after every round the partnership will change. By alternating partners, this format provides an opportunity to make new friends or reunite with old pals. Teams play a total of 8 hands per round (game).
Here's what is needed to get started:
1) A Euchre card deck for each table.
2) Progressive Score Sheets, 1 for each player
3) The number of games is determined by the tournament director.
4) Each table needs to be numbered (1, 2, 3, etc)
Detailed instructions for use is given below
* Printing Directions *
Acrobat Reader is required to print these forms
It is convenient to have a sign-up table to greet players as they arrive. This is where a player's number and starting position are assigned. The simplest way is to assign people numbers in the order that they arrive. Names may also be placed in a hat and drawn randomly. A very informal method would be to just have everyone sit down at a table of their choosing. When players sign up each of them is given a score sheet. All players are responsible for keeping their own score.
Once teams are seated, play begins. The first dealer is determined by dealing the cards one at a time and face up until someone receives a jack. That player is the dealer and starts the game. At the end of each hand, points are marked on the score sheet. Each block on the sheet needs to be filled in with 1, 2, 4, or X. * See score sheets below.
The deal is then passed to the person on the left. Each person deals twice for a total of 8 hands. In the case of a misdeal or if everyone passes after the second round, then that same person would deal again.
The team that has the highest number of points at the end of eight hands will move up one table (for example from table 2 to table 3). The losing team stays at the same table, but one player will move over to the next seat. This may be left up to the players as to who moves or could be decided by drawing for high cards. This means the partners from one game will not be partners on the next one. The two winners that moved up from the last table will then sit down. If two players have played together in a prior round, they should not play together a second time.
Each player keeps his own score. At the end of the tournament, all scores are totaled up. The player with the most points wins. A way to make your tourney a more interesting event is charging a quarter for each euchre. The money goes into a pot. At the end, it is then given to the person with the most loners.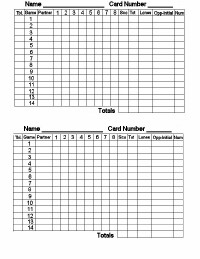 Progressive Score sheets
may be downloaded here
There are two sheets per page. You will need 1 sheet for every two players. They are good for an event of up to 14 games
---
Suggested Further Reading:
The OhioEuchre Community Forum
Just like talking Euchre with like-minded individuals? Have a question on how to play a particular hand? Would like to share your expertise with other Euchre players from around the world? The OhioEuchre forum is designed just for you.
Just learning? Our forum includes a entire section dedicated to those that are new to Euchre.
Click here to visit our forum
---
Not yet a member of our community?
Sign-up Here, There is no cost.